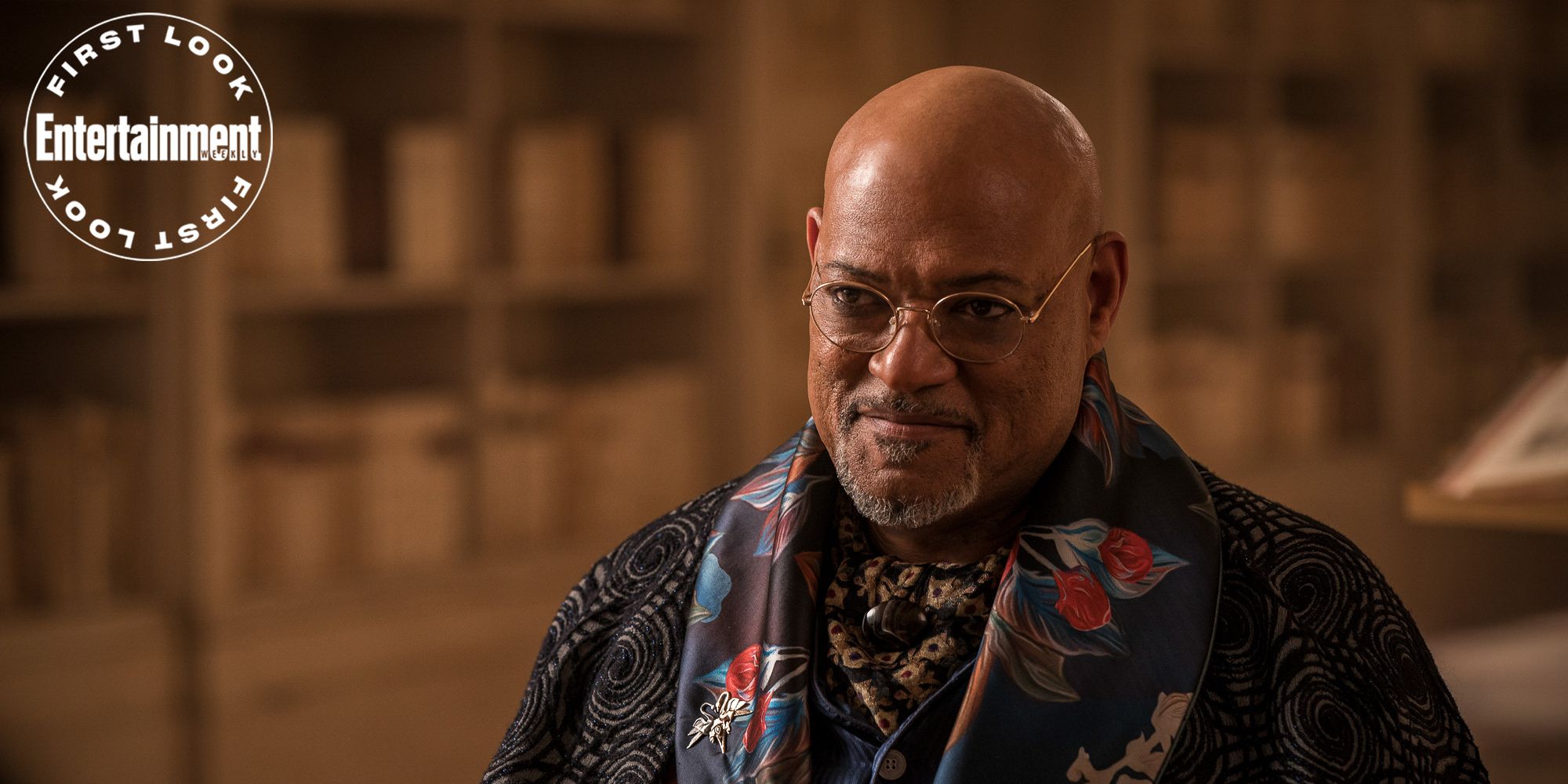 New images for Netflix The School of Good and Evil reveal a first look at the character of Laurence Fishburne. The new dark fantasy film is an adaptation of Soman Chainani's 2013 novel of the same name, the first in a seven-book series that ended in 2020. In the novel, children are sent to a "enchanted institution" in which they are trained to become Evers (fairy tale heroes) or Nevers (villains). The School of Good and Evil centers on Sophie and Agatha, two girls from the same village who find themselves on unexpected and opposite paths when they arrive at school and must adjust to their new roles.
The film will be directed by Paul Feig (Bridesmaids, A Simple Favor, Ghostbusters) and star Sophia Anne Caruso and Sofia Wylie as Sophie and Agatha, respectively. The rest of the star-studded cast includes Charlize Theron as Lady Lesso (the Dean of Evil), Kerry Washington as Professor Clarissa Dovey (the Dean of Good and Lady Lesso's best friend), Michelle Yeoh as Professor Emma Anemone and Laurence Fishburne as The Schoolmaster. Ben Kingsley, Rob Delaney, Cate Blanchett and Rachel Bloom have also been announced as part of the impressive line-up. Previously, a brief teaser for The School of Good and Evil offered an intriguing look at Theron, Washington, Caruso and Wylie in their roles while teasing a big-budget magical epic with nods to its literary roots.
Now, Netflix has unveiled new images from the dark fantasy film in a EO exclusive, revealing Fishburne's character look and offering glimpses of other characters from the film, such as Yeoh's Professor Anemone. The photos tease an immersive production. See pictures below:
These images make it clear that Feig is embarking on his adaptation of the expansive world of the novels, transforming the enviable cast to perfectly match the series' fantasy universe. Fishburne's appearance as well as Theron and Washington's perfectly capture the spirit and personality of their book characters despite their updated looks. The photos tease a sweet friendship between Sophie and Agatha before they were caught and forced to separate, which will go a long way in drawing viewers into the story. If it's done well, The School of Good and Evil will deliver the mystical, dark academia film that fans of the novel have been hoping for, and with six other books to pull material from, could mark the start of a successful YA fantasy movie franchise for Netflix.
The foray into fantasy worlds marks a new era in the streaming wars, with each service banking on a reboot, adaptation or spin-off of a popular fantasy IP in hopes of creating the next. Game of thrones. So far, HBO Dragon House and Amazon Prime power rings achieved impressive viewing numbers. In comparison, Netflix the witcher and shadow and bonehave been less successful, although recent series The sand man gained great success. The transition to a fantasy film franchise with The School of Good and Evil would put Netflix ahead of the game in terms of recent releases, perhaps creating another Harry Potter or Peter Jackson the Lord of the Rings trilogy-level hit for modern audiences. The film is due out later this year, and audiences will finally be able to dive into a whole new fantasy world.
Source: EO